Environmental Assessments On Natural Gas Pipelines
In 2014, Archipelago provided an environmental assessment for the marine component of a proposed natural gas transmission system planned for the northwest coast of British Columbia.
Spectra Energy has been establishing and operating natural gas pipelines throughout British Columbia for more than 50 years. Today the company moves more than 60% of the natural gas produced within BC. Most recently, Spectra Energy proposed a project to deliver gas from northeast British Columbia to a liquid natural gas (LNG) facility to be constructed near Prince Rupert.
Running approximately 860 kilometres in length, the Westcoast Connector Gas Transmission Project would accommodate two large-diameter pipelines, with a total design capacity of 8.4 billion cubic feet per day. Although most of the pipeline would be on land, up to 180 kilometers would run on the seabed of Portland Inlet and Chatham Sound off the northwest coast of British Columbia.
Archipelago was asked to provide the environmental assessment for the marine component of this project. This involved a thorough technical overview of marine resources and features along the marine portion of the pipeline, and the development of sound mitigation strategies to address the environmental interactions identified by the assessment.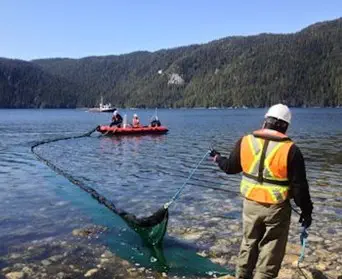 During this process, Archipelago provided environmental information and advisement to the engineering design team, and consulted closely with First Nations representatives and other key stakeholders. The final report examined three main components: nearshore marine habitat and ecosystems; offshore marine habitat and ecosystems; and seabed sediment and related water quality.
In November 2014, Spectra Energy's Westcoast Connector Gas Transmission project received its Environmental Assessment Certificate from the Government of British Columbia.
Archipelago continues to work with the project team to address the specific conditions of this certificate, while preparing for the construction and operational monitoring program to follow.