Managing BC's Groundfish Hook and Line / Trap Catch Monitoring Program
To help ensure the long-term sustainability of British Columbia's groundfish fishery, Fisheries and Oceans Canada worked with Archipelago to introduce an at-sea monitoring program that would accurately assess at-sea fishing activity across the entire fishery.
Launched in 2006 by Fisheries and Oceans Canada in cooperation with Archipelago,, the British Columbia Groundfish Hook and Line / Trap Catch Monitoring Program (GHLCMP) is a primarily industry-funded initiative designed to ensure the long-term sustainability of BC's groundfish resource.
To help enforce responsible fisheries management practices and support informed decision making, GHLCMP participants worked with Archipelago to equip their vessels with CCTV-based electronic monitoring (EM) technology.
With this equipment in place, participating vessels could automatically contribute valuable species-specific catch data that would help improve the accuracy of fisheries resource assessments within each sector.
The need for a comprehensive monitoring program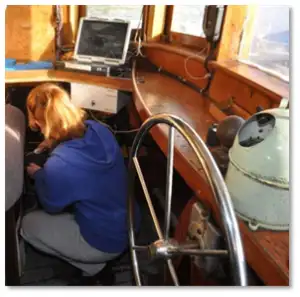 Although introduced in 2006, the GHLCMP is the product of a cooperative effort that started years earlier. With conservation concerns increasing around the world, British Columbia's groundfish fisheries had come under pressure to increase the scope of its catch-reporting processes.
Although existing dockside monitoring programs could account for 100% of landed catch, the lack of a comprehensive at-sea monitoring component created uncertainty about total catch primarily due to unknown at-sea releases.
In 2003, Fisheries and Oceans Canada initiated discussions with the commercial groundfish sector to address the growing conservation and sustainability issues. Fisheries and Oceans Canada established five principles to guide the development of a new management plan:
All groundfish must be accounted for
Catch will be managed according to established management areas
Vessels will be individually accountable for their catch
At-sea monitoring standards will be established and implemented to meet the above three objectives
Species and stocks of concern will be closely examined and management actions implemented to be consistent with the precautionary approach
Designing the program
Subsequent discussions with fishing industry representatives resulted in the development of the Groundfish Hook and Line / Trap Catch Monitoring Program (GHLCMP). Designed to address each of Fisheries and Oceans Canada's principles, while considering the financial and logistical realities, the GHLCMP identified a range of requirements:
Transferrable quota between all sectors
Comprehensive 100 percent at-sea and dockside catch-monitoring programs
Individual vessel quota (IVQ) management for all sectors
An integrated fisheries-management plan
100% retention of all rockfish
Implementation of consistent management areas
Individual vessel accountability for all catch (retained and released)
Working closely with Fisheries and Oceans Canada and industry, Archipelago designed and implemented a cost-effective monitoring program for the fishery that addressed the above requirements.
A key aspect of the GHLCMP is the use of EM technology to audit self-reported data provided in vessel fishing logbooks. (The methodology and results are summarized in the article "The advantages of an audit over a census approach to the review of video imagery in fishery monitoring," Stanley, R. D. et al., 2011).
GHLCMP today
Today, 100 percent of British Columbia's commercial hook and line and trap groundfish fishing is monitored using Archipelago EM technology, involving approximately 200 vessels, 1,200 trips, 10,000 sea days, and 20,000 fishing events annually.
Since its inception in 2006, this program has clearly demonstrated how electronic monitoring can effectively address a variety of monitoring issues, including catch identification, enumeration and disposition, size determination, as well as time and area restrictions.
As a model of sustainable marine resource management, British Columbia's EM programs are widely considered to be among the most progressive and effective anywhere. Each year, visitors come from around the world to study BC's monitoring programs, and to identify strategies that they can implement within their own countries.
For more on the GHLCMP, see the "Evaluation of the Commercial Groundfish Integration Pilot Program" (pdf) produced by Fisheries and Oceans Canada (2009)
For the latest information on the Pacific Halibut fishery, see the Fisheries and Ocean's Canada sustainability resource.